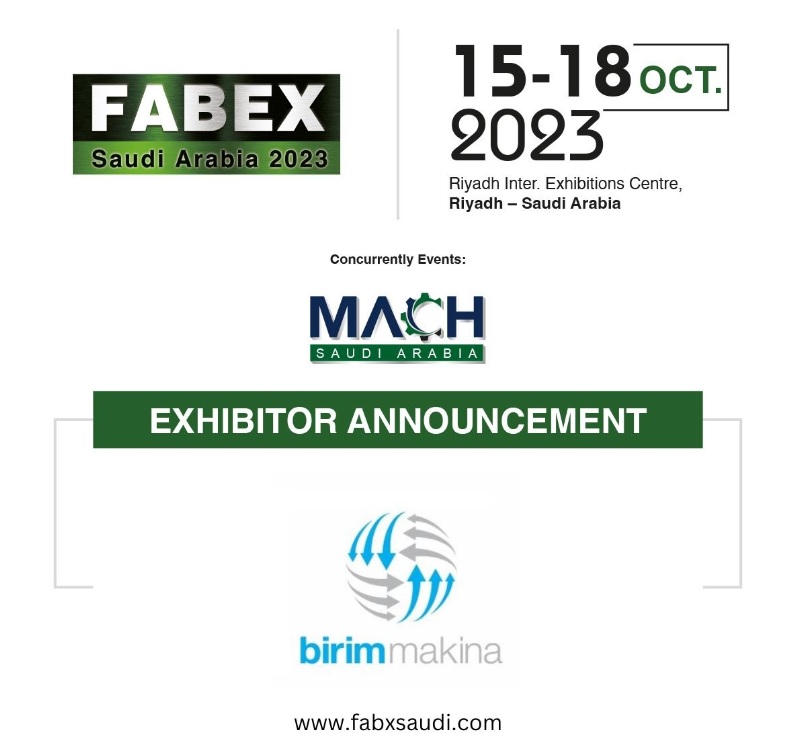 FABEX Saudi Arabia 2023 Exhibition
Birim Makina to Participate in FABEX Saudi Arabia 2023 Exhibition with Innovative Metal Recycling Solutions
Birim Makina, a leading manufacturer in Turkey's scrap metal processing sector, is excited to announce its participation in FABEX Saudi Arabia 2023 Exhibition. The 10th International Exhibition for Steel, Steel Fabrication, Metal Forming, and Finishing will take place from October 15th to 18th, 2023, in Riyadh, Saudi Arabia. Birim Makina invites attendees to visit their booth, Hall3 B25 at FABEX Saudi Arabia 2023.
Specializing in metal recycling and metal recycling equipment, Birim Makina produces a wide range of innovative machines, including balers, cranes & handling equipment, shredders, chip processing machines, scrap cleaning solutions, briquetters, and shears. The company's focus remains on providing solutions for the evolving needs of the metal recycling industry, ranging from presses to shears, crushers, chip processing machines, and fixed and mobile scrap cranes.
FABEX Saudi Arabia, in conjunction with Metal & Steel Saudi Arabia, has established itself as a premier event for steel, steel fabrication, foundry, metal processing, forming, cutting, welding, automation, finishing machinery, equipment, and tools in the MENA region. The exhibition serves as a valuable platform for decision-makers, technology giants, industry experts, manufacturers, suppliers, machinery companies, consultants, engineers, agents, traders, and experts in the steel and metallurgy industry to connect, trade, and expand domestic and international outreach in the Gulf region.
Saudi Arabia has become a favored destination for steel giants, experiencing its most significant period of new steel capacity investments in a decade to meet the booming demand driven by Saudi Vision 2030. Recent data from the Saudi Arabia Ministry of Industry and Mineral Resources reveals $6 billion secured for a steel plate mill complex project catering to the shipbuilding, oil and gas, construction, and defense sectors, as well as a "green" flat steel complex to supply the automotive, food packaging, machinery and equipment, and other industrial sectors.
The presence of potential buyers from steel, construction, infrastructure, and pipeline industries at FABEX Saudi Arabia has demonstrated the exhibition's significance in facilitating new connections and increasing market share in the GCC.
Investing in FABEX means choosing a trade show with a proven track record for delivering successful returns on investment. Let's celebrate the 10th anniversary together and continue the path to success!
For more information about FABEX Saudi Arabia 2023, please visit EXHIBITION WEBSITE.