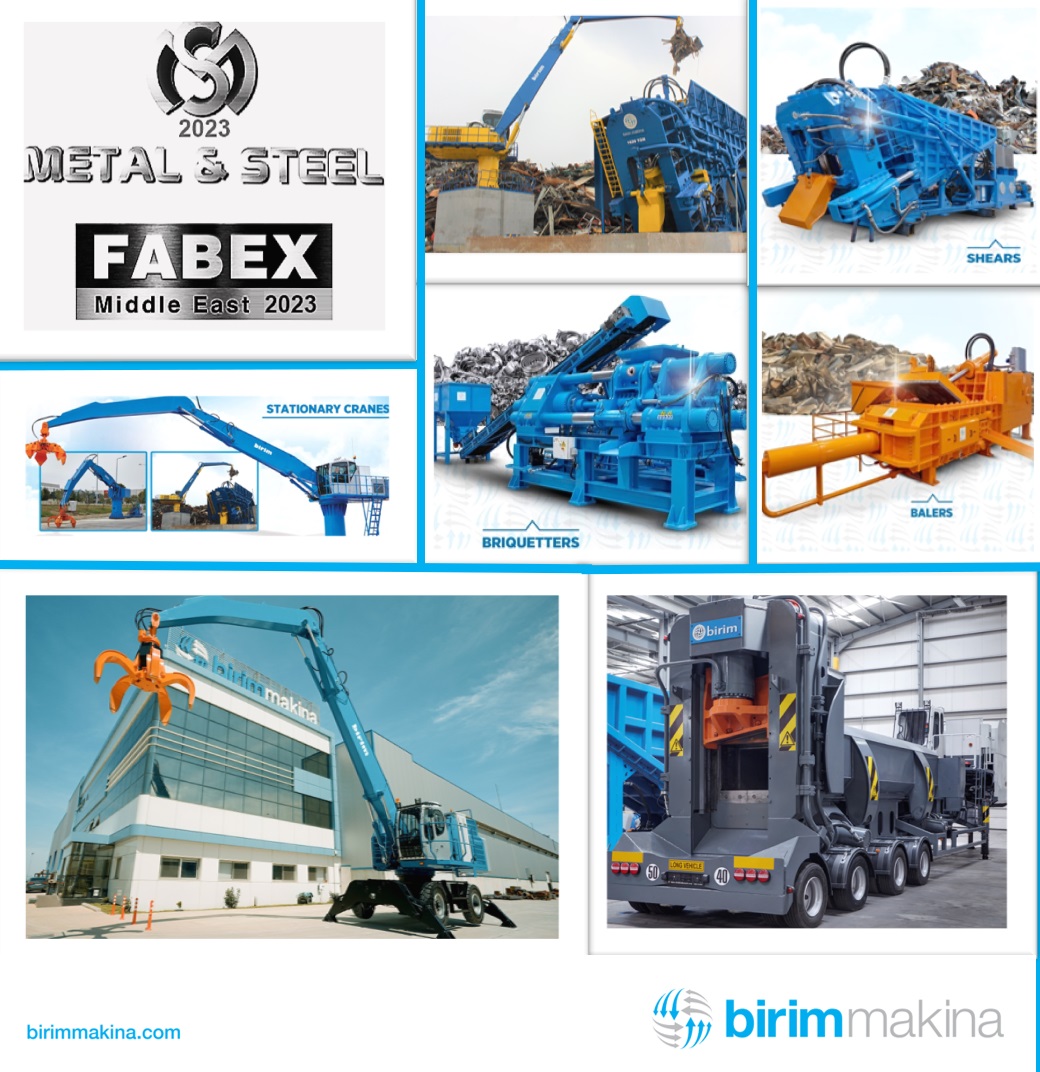 FABEX 2023 Metal & Steel Exhibition Egypt
Birim Makina to Showcase Metal Recycling Machinery at FABEX Middle East 2023 Exhibition
Birim Makina, a leading manufacturer in the scrap metal processing sector, is excited to announce its participation as an exhibitor at FABEX, Metal & Steel, The 13th International Exhibition for Steel, Steel Fabrication, Metal Forming, Fabricating, and Finishing. The event will be held from 2nd to 4th September 2023 in Cairo, Egypt.
Birim Makina specializes in producing machinery for metal recycling, including balers, cranes, shredders, chip processing machines, scrap cleaning devices, briquetters, and shears. The company's focus is on delivering high-quality solutions for efficient and sustainable metal processing. Their product range includes presses, shears, crushers, and fixed and mobile scrap cranes.
FABEX Middle East 2023, The Arab's Largest Metal Forming, Fabricating, Welding, and Finishing Exhibition in the Middle East, provides an ideal platform for Birim Makina to showcase its cutting-edge technology and industry-leading solutions. This international exhibition connects professionals from the steel industry, steel fabrication, metal forming, fabricating, and finishing sectors.
Furthermore, FABEX Middle East 2023 is exclusively dedicated to fastener and fixing technologies, as well as machine tools. The exhibition covers standard and non-standard fasteners, construction fixings, assembly and installation systems, stampings, hand tools, power tools, industrial tools, and various machine tools. It offers networking opportunities and serves as a hub for downstream industries.
Birim Makina invites attendees to visit their booth, Hall3 B25, at FABEX Middle East 2023 to explore their advanced technology, witness live machinery demonstrations, and engage in discussions about their innovative solutions for metal forming, cutting, welding, automation, and finishing.
Join Birim Makina at Metal & Steel Egypt 2023 and discover how you can showcase your products, technology, and services to the fast-growing emerging markets. Don't miss this chance to grow your business effectively and efficiently!
For more information about Metal & Steel Egypt 2023, please visit [Metal & Steel Egypt Exhibition| September 2023 (metalsteelegy.com)].